Take 5 to Innergize
Palms Up Stretch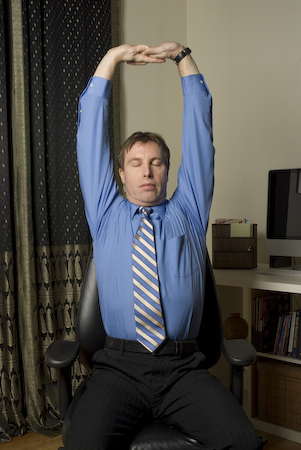 Benefits

Stretches arms and chest, stretches sides of rib cage, lengthens and stretches spine, promotes better posture, increases circulation to chest, heart and lungs, increases energy, reduces overall stress and more.
Instructions
Step 1:

Sit slightly forward in your chair, feet flat on the floor, legs at a 90 degree angle. Contract your abdominal muscles slightly, lift up through your chest and lengthen your spine.  Drop your shoulders down your back.

Step 2: Interlock your fingers together, turn your hands so that palms are facing out, and as you inhale, reach both arms straight up, palms up toward the sky.  As you exhale, keep reaching up, but let your shoulders slide down your back.  Continue to inhale, reaching up through your arms and rib cage, and as you exhale, slide your shoulders down your back.  Do NOT let your rib cage pop forward.
Step 3:

Repeat 3-5 times, then shake out your arms, place your hands on your thighs and take a few deep breaths. Return to work innergized!