June 2017
INNERGY INSIGHT
WE'RE CELEBRATING 13 YEARS IN BUSINESS!
Several years ago, in my early 20's, I was working as an On-Air Broadcast Journalist in Eastern Canada. I had an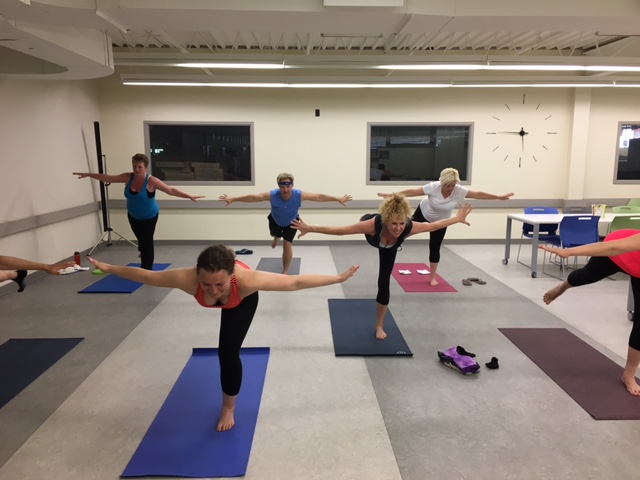 alcoholic boss who would come to work smelling of rum at least twice a week. It was then that I learned not everyone dealt with work stress in a positive way.
I was burnt out at a young age myself, tired of chasing sources for quotes and staring at deadlines day after day. So when I put in my notice to quit that job just one year later, I had no plan. Friends and family nicely told me I might be nuts and suggested I should keep my job, but my heart just wasn't in it anymore. I couldn't explain my decision at the time, but looking back now, I see that the universe had other plans for me.
Two years, a few jobs and two bouts of being unemployed later, I discovered yoga. Yoga to me was the thing I had been looking for. It seemed to mysteriously melt my stress, it allowed me to connect to something much bigger than myself and most importantly, it brought me inner peace and gave me real tools to deal with things like insomnia and asthma. I knew from my very first class that yoga would be a part of my life forever. And I knew I wanted to share it with the world.
Today, our teachers bring yoga to Corporate & Private clients all across Canada. We're passionate about what we do and we're excited to be making a real difference helping companies boost productivity and reduce stress and turnover.
To all our teachers and clients over the years, thank you so much. It's been 13 years and we're just getting started.
-Lynn Roberts
President, Innergy Corporate Yoga
HEALTHY WORKPLACE YOGA POSE
Tree Pose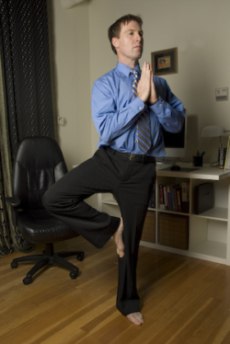 Benefits
Improves balance, memory and concentration.  Strengthens legs, ankles, buttocks, back and abdominal muscles.  Realigns the body.  Open the hips.  Improves focus and mental clarity and relaxes the mind.
Instructions:
Step 1: Take both shoes off and stand evenly into both feet.  Feel all four corners of each foot.
Step 2: Gaze at a spot on the wall ahead of you.  (This is a called a "drishti" in yoga class.)  Shift the weight into your right foot.  Lift your left leg off the ground and place your left foot at your right ankle, knee or inner thigh.  If your left foot is above your right knee, open your left knee out to the side by pressing your left foot into your right thigh.
Step 3: As you inhale, place your heads into prayer position and bring them to your heart.  If you find it difficult to balance this way, open your arms out to the sides.
Step 4: Pull in your abdominal muscles, tuck your tailbone under, lift up through your chest and relax your shoulders.  Keep breathing.
Step 5: To go a step further, as you inhale, open your arms out to the sides and place palms together above your head.  To go even further, shift your focal point up to the ceiling by gazing upwards with your eyes.  Move slowly.
Step 6: To come out, bring your hands back to your chest, gaze comes forward.  Inhale, lift through your chest one last time, and as you exhale, release your hands, lower your arms and release your left leg to the floor.  Shake out your legs and repeat on the other side.Don't take balancing poses so seriously.  Have fun with this one!
WORKPLACE RECIPE
Avocado Strawberry Salad with Feta & Walnuts in a Tarragon Vinaigrette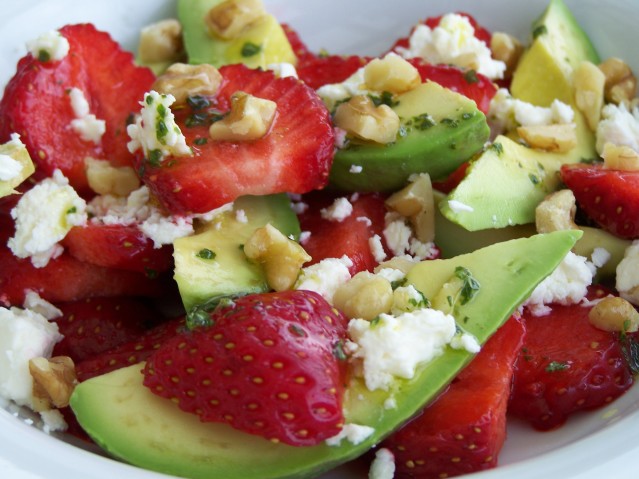 Ingredients
Salad
4 large strawberries, sliced ( stems removed)
1 medium avocado, sliced
2 tablespoons walnuts, coarsely chopped, toasted
2 tablespoons feta cheese, crumbled
Vinaigrette
1 tablespoon apple cider vinegar
1 tablespoon olive oil
1 teaspoon dried tarragon
1 teaspoon sugar
1/2 teaspoon salt
Directions
Whisk all vinaigrette ingredients together in a small bowl.
Divide strawberries and avocado evenly into two individual salad bowls.
Drizzle approximately one tablespoon of vinaigrette over each.
Top each salad with a tablespoon of walnuts and a tablespoon of feta.
NEWS & VIEWS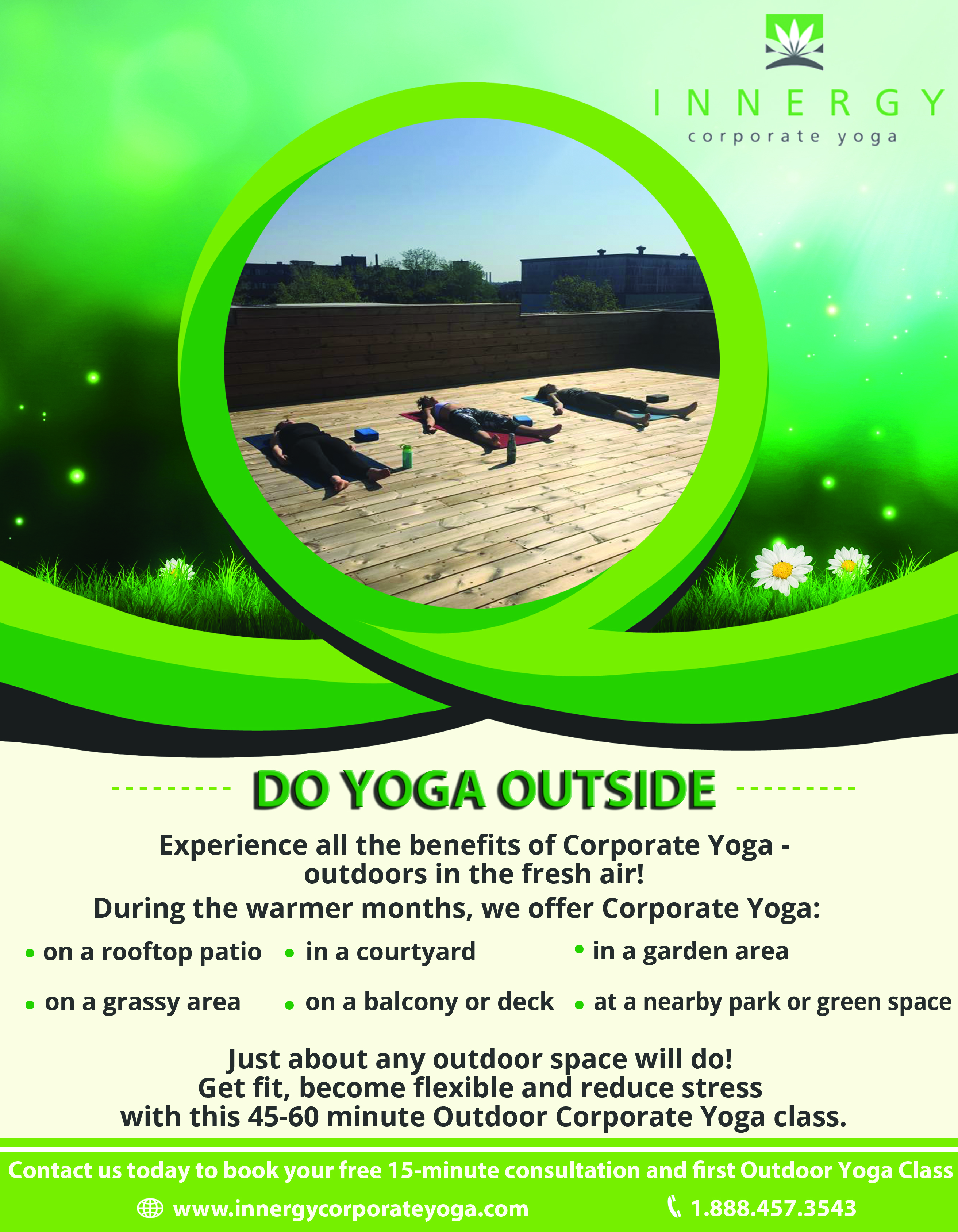 Contact us today to set up an Outdoor Yoga class on your rooftop patio, courtyard, grassy area or nearby park.
Book your FREE Consultation today
Study Suggests Women Benefit more from Meditation than Men Read more
Start an Innergy Corporate Yoga Franchise and help yoga teachers build a successful Corporate Yoga business while you earn a residual, recurring income with low overhead. We are Canada's largest mobile yoga company and have been in business since 2004.
Start a Corporate Yoga class at your Workplace
For more information on how to bring the many benefits of Corporate Yoga to your office in Vancouver, Victoria, Kamloops, Calgary, Toronto, Ottawa, Montreal, Winnipeg, Guelph, Hamilton, Halifax or any of the other cities we operate in, contact us today.