April 2017
INNERGY INSIGHT
5 Reasons Why Workplace Wellness is Essential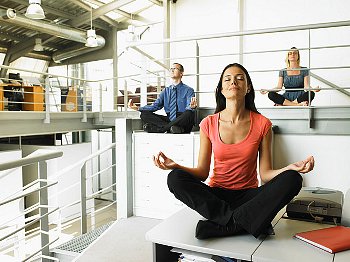 Corporate health programs are now more important than they've ever been, so it's no surprise that more and more companies are continuing to offer these to their staff. A workplace wellness program can positively improve productivity, reduce absenteeism, and decrease overall healthcare costs. Companies should also not underestimate the value of a wellness program in the office as a successful recruitment and retention tool.
If you don't already have a wellness program at your workplace such as onsite Corporate Yoga classes, here are five reasons your company should considering starting one:
1.   Increased productivity
The primary goal of any Corporate Health Program is to help your employees be healthier both at and away from the workplace. We know that staff who are healthier will also demonstrate improved productivity, increased concentration and heightened energy.  A recent Canadian study showed that employee wellness programs increase employee productivity by as much as 51%.
2.  Lowered healthcare costs
The financial impact of decreased sick leave, absenteeism and lower health insurance premiums are easy to see. A Canadian study recently indicated that the implementation of an employee wellness program has been shown to decrease disability costs by 36% and drug benefits costs by 27%.
3.  Improved employee engagement and fulfillment
The results are clear: Healthier employees are happier, they work harder, they help their team mates and are much more efficient. According to a Canadian study, employee wellness leads to an impressive 70% increase in employee engagement and job satisfaction. This is a result of comprehensive programs that go beyond basic healthcare needs.
4.  Increased employee loyalty
Great employees are hard to find, and when you have them, you don't want to lose them. This is why increased company loyalty is a significant selling point for corporate health programs. Employee loyalty contributes to a more harmonious working environment and means reduced recruitment, training and turnover costs.
5.  Attraction and retention of top talent
Corporate Health and Wellness Programs are no longer seen as a perk – they are now seen as the norm and are actively sought after by top Canadian talent. In fact, 61% of 30-year-old Canadians believe their employer has an obligation to assist them in maintaining a healthy lifestyle.
Contact us today to receive your FREE, no obligation 15 minute in-person Consultation to see if Corporate Yoga is right for your workplace.
Innergy Corporate Yoga has been providing Corporate Yoga classes to companies and organizations across Canada since 2004. Our clients include Canada Revenue Agency, Indeed Canada and Microsoft, to name a few. See our Locations.
Adapted from this article
Cuban Yoga Retreat December 2017

Early bird special ends May 1st!
If you've ever thought about treating yourself to a world class yoga retreat somewhere warm in winter, take a look at our upcoming event with Innergy teacher Mercedes this December 2017 in Cuba.
Yoga, delicious food and a chance to explore the culture and beaches of Varadero all make this retreat relaxing and fun!
Mercedes teaches Corporate Yoga and Private Yoga in Ottawa, ON and Gatineau, QC. You can read more about her here.
For more information or to register, email Mercedes at mercedes@innergycorporateyoga.com.
HEALTHY WORKPLACE YOGA POSE
Hand & Finger Stretch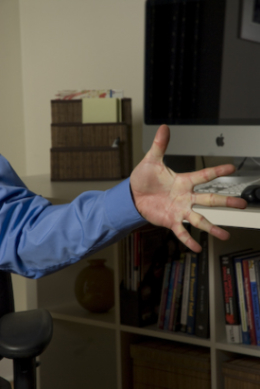 Benefits
Facilitates better movement of hands and fingers, increases circulation to hands, fingers and arms and reduces tension and stiffness.
Instructions:
Step 1:

Sit on a chair or stand up. If sitting, place your feet flat on the floor, legs at a 90 degree angle, spine straight and tall, abdominal muscles firm.

Step 2: 

Extend your right arm out to the side.  As you inhale, spread your fingers widely apart and stretch your hand and fingers in all directions.  As you exhale, curl your right hand into a tight fist.  Repeat 2-4 more times.

Step 3: 

Switch sides: Extend your left arm out and repeat step 2.

Step 4: Finish by shaking out both arms, taking a few deep breaths and rolling your shoulders a few times. Enjoy your new innergy!
WORKPLACE RECIPE
Strawberry Spinach Salad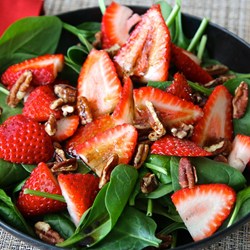 Ingredients
1 bunch fresh spinach
1 cup sliced fresh strawberries
1/2 cup crumbled Gorgonzola cheese
1/2 cup raw pecans
1/4 cup balsamic vinegar
2 tablespoons honey
1/2 cup olive oil
salt and ground black pepper to taste
Directions
Combine the spinach, strawberries, Gorgonzola cheese, and pecans in a large bowl.
Stir the balsamic vinegar and honey together in a bowl; slowly stream the olive oil into the mixture while whisking continuously. Season with salt and pepper. Drizzle the dressing over the salad just before serving.
NEWS & VIEWS
Start an Innergy Corporate Yoga Franchise and help yoga teachers build a successful Corporate Yoga business while you earn a residual, recurring income with low overhead. We are Canada's largest mobile yoga company and have been in business since 2004.
We have 6 franchise territories available in Canada:
-Vancouver, Lower Mainland & Vancouver Island, BC
-Alberta
-Toronto
-Western + Eastern Ontario
-Saskatchewan + Manitoba + Northern Ontario
-Quebec + Maritime provinces
To apply and learn more
Start a Corporate Yoga class at your Workplace
For more information on how to bring the many benefits of Corporate Yoga to your office in Vancouver, Kamloops, Calgary, Toronto, Ottawa, Montreal, Winnipeg, Guelph, Hamilton, Halifax or any of the other cities we operate in, contact us today.