May 2017
INNERGY INSIGHT
Is it Effective to only do a Short Yoga Practice?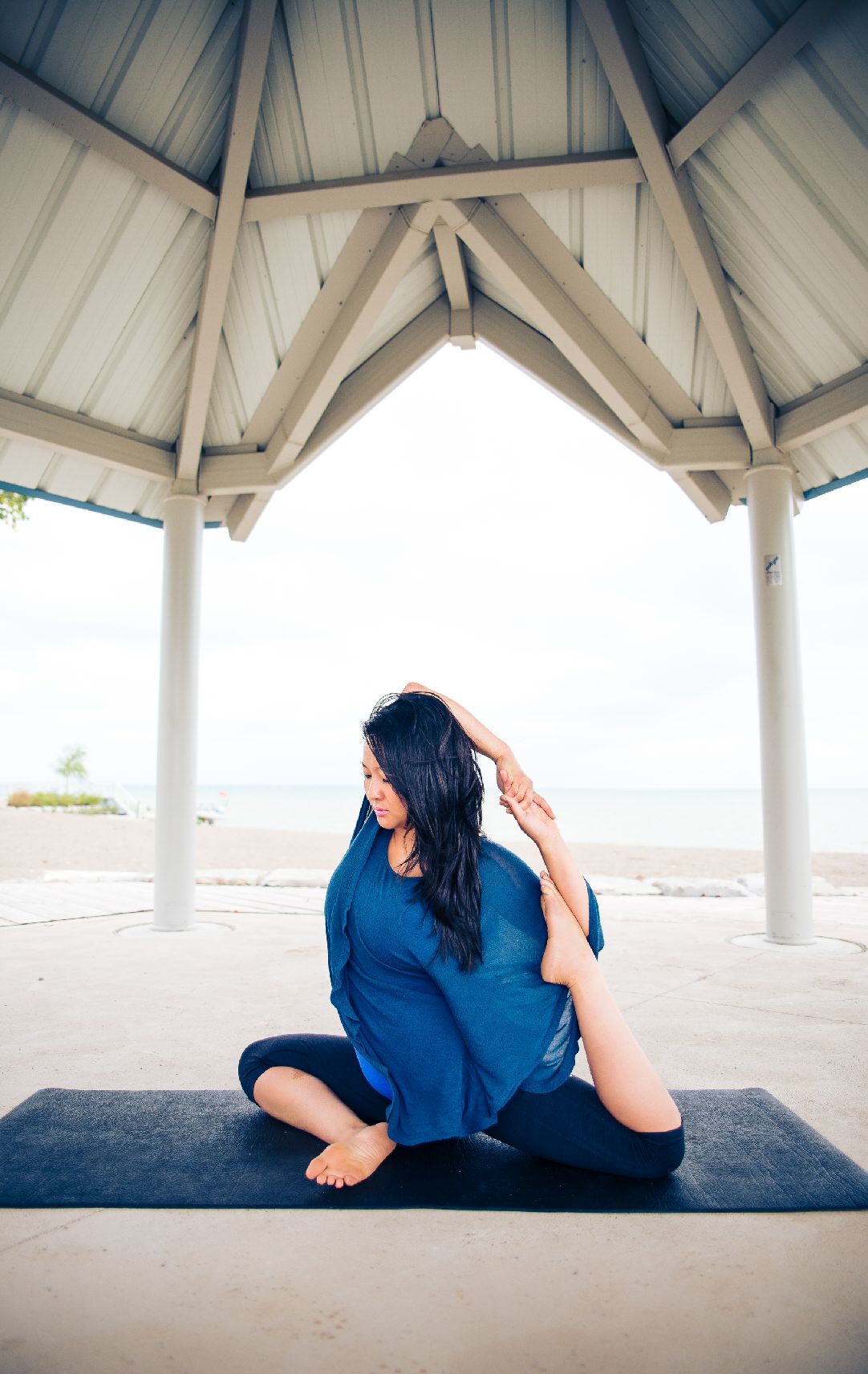 Many people say that if you cannot devote a full 60 or 90 minutes to your yoga practice, then why bother? Traditionally, yoga was practiced for a full 90 minutes or longer. Classes at most studios today are 60, 75 or 90 minutes. But what if you don't have that much time to do yoga? What if you don't want to do yoga for that long? Is it still effective?
I believe it is. My own personal practice used to be 90 minutes, 4-5 times a week or more, but that was before having children. Now I've got two school-aged children, run Innergy Corporate Yoga full time and am often cooking a meal or cleaning something in our house. Sure, I could make more time for yoga but my practice these days is usually 20-30 minutes, 2-3 times a week. Although I would like to practice yoga more, I also know that something is better than nothing. I feel the effects after just 5 minutes into my practice – more energy and less stress, as well as many other benefits.
I think yoga is great. If you've got 90 minutes, five times a week, great. If you only have 20 minutes three times a week, then that is great too. Obviously longer is better, but not if it doesn't work with your schedule. We have to be realistic. The important thing is to move your body. Yoga is a great compliment to many sports and activities and a very beneficial way to lower stress and boost energy.
Innergy's Corporate Yoga classes are typically 45-60 minutes in length and because the class comes straight to the business, employees save time and money by not driving, parking and leaving the office.
-Lynn Roberts
President, Innergy Corporate Yoga
HEALTHY WORKPLACE YOGA POSE
Legs up the Wall (in Butterfly)

Benefits
Opens and stretches hips, relieves tired or cramped legs or feet, relieves mild backache, helps lymphatic fluid circulate through the body, increases circulation to pelvic region (which raises libido, can regulate irregular menstruation and aid in digestion), promotes a deep sense of relaxation, helps improve varicose veins and helps with insomnia, depression and anxiety.
Instructions:
Step 1: Remove your shoes and socks if possible.
Step 2:  Start in Legs Up the Wall. Sit on the floor with either your left or right hip flush to the wall, legs straight.  As you lie down on your back, straighten your legs up the wall and press your buttocks as close to the wall as you can. If needed, lie on a yoga mat, blanket or towel for extra cushioning.
Step 3: Place your arms at a 45 degree angle away from your body, palms facing upward.
Step 4: Close your eyes and completely relax, sinking into the floor.
Step 5: Then, bring the soles of your feet together, and allow your knees to open out to the sides.  Let your knees relax and feel your hips opening.  Stay here for 5-10 breaths or more.
Step 6: To come out, straighten your legs back up the wall, then bring your knees into your chest.  Roll to one side and push yourself up to a seated position.
WORKPLACE RECIPE
Homemade Fresh Summer Rolls with Easy Peanut Dipping Sauce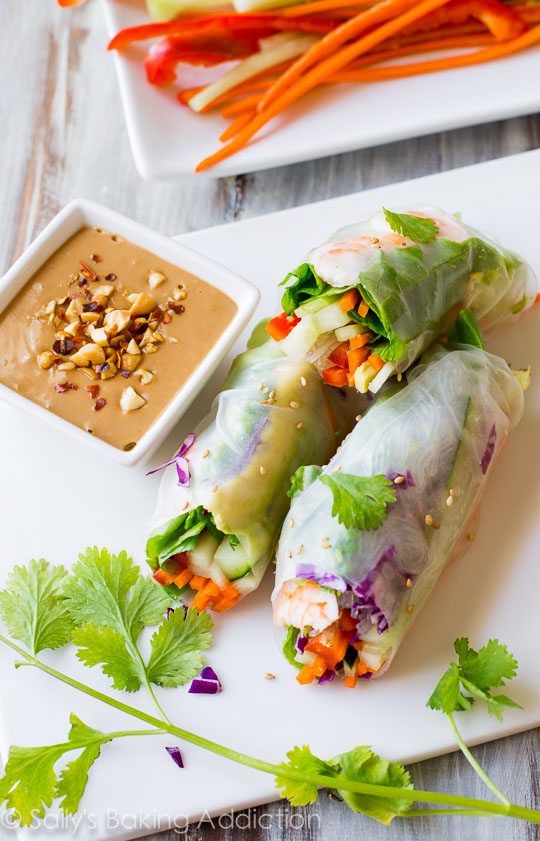 Ingredients:
Easy Peanut Dipping Sauce
1/4 cup creamy peanut butter
1 Tablespoon hoisin sauce
2 teaspoons soy sauce
1 clove garlic, mashed (or about 1 teaspoon minced)
1 teaspoon Sriracha sauce or a chile garlic sauce, optional for spice
1-2 Tablespoons warm water, or more as needed
optional garnish: crushed peanuts, sprinkle of crushed red pepper
Summer Rolls
10 spring roll rice paper wrappers
1 large carrot, peeled and julienned
1 large cucumber, julienned (you can peel, but I don't)
1/2 of a large red pepper, julienned
1/3 cup chopped purple cabbage
1 ounce cooked rice noodles/rice vermicelli (optional)
1 avocado, sliced
handful fresh cilantro (and/or mint, basil)
5 large green lettuce leaves (romaine, butter, etc), torn in half
20 medium cooked shrimp, peeled and sliced in half length-wise
sesame seeds for garnish (optional)
Directions:
First, read through the post above to learn some tips/tricks for making these summer rolls. Also, make sure every single ingredient in the summer rolls is prepared/chopped/cooked before you assembling.
Prepare the dipping sauce: You can whisk everything together in a bowl or use a food processor. I always whisk them because it saves me from cleaning the food processor. Add everything to a medium bowl (except water and optional garnish) and whisk until smooth. Add 1-2 Tablespoons of warm water or until you reach desired thinness. Pour into a serving bowl/ramekin and top with garnish. Set aside.
Prepare the rice paper wrappers: Pour warm water into a large bowl or 9-inch square or round baking pan. The baking pan is what I always use. Working with one at a time, dip the rice paper wrapper into the warm water for 15-20 seconds (or whatever the package suggests). Usually it's around that time. You want the wrapper to be soft, yet still slightly firm and pliable. Immediately remove from the water and place flat onto a work surface such as a large plastic or ceramic cutting board. Sometimes I use a large wood cutting board, but the wrappers stick to it a little more. Pat the wrapper slightly dry.
Fill the rolls: Place a few sticks of carrot, cucumber, red pepper, and a sprinkle of cabbage on top of the bottom 1/3 of the rice paper as explained and pictured in the post. Then, a small amount of noodles (if using), a slice or two of avocado and a bit of cilantro. Lay 1/2 of a lettuce leaf on top and 4 slices of shrimp on top– as pictured above. Remember, do not overstuff the roll. Start small then add more, as needed, as you roll each one.
Roll them: Roll everything up tightly. To do so, gently pull up the bottom of the roll and roll over the filling. Then, roll and use your hands to tuck the filling in as you go. It's basically like you're rolling a burrito! Remember, you want a very tight roll. You can fold in the sides of the rice paper roll if you wish, but sometimes I don't.
After rolling each, place on a serving plate. Cut in half, sprinkle with sesame seeds, and serve with peanut sauce. This amount is enough for Kevin and I and there are always a couple leftover for lunch the next day.
Make ahead tip/storing: Wrap rolls individually in plastic wrap (suggested to prevent sticking and then tearing) and layer in a tupperware between sheets of parchment or wax paper. Store up to 2-3 days. In terms of taste, the rolls are best served fresh the day they are made. Cover sauce tightly and store in the refrigerator for a couple days.
NEWS & VIEWS
Start an Innergy Corporate Yoga Franchise and help yoga teachers build a successful Corporate Yoga business while you earn a residual, recurring income with low overhead. We are Canada's largest mobile yoga company and have been in business since 2004.
Start a Corporate Yoga class at your Workplace
For more information on how to bring the many benefits of Corporate Yoga to your office in Vancouver, Victoria, Kamloops, Calgary, Toronto, Ottawa, Montreal, Winnipeg, Guelph, Hamilton, Halifax or any of the other cities we operate in, contact us today.