Wednesday April 26 is Administrative Professionals Day. It's an annual day in recognition of all the hard working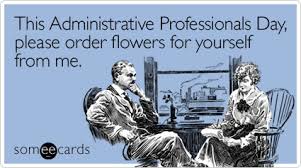 admin staff in several countries around the world.
Here are some fun facts about this day:
The day recognizes the work of secretaries, administrative assistants, receptionists, and other administrative support professionals.
Typically administrative professionals are given cards, flowers, chocolates, and lunches
The holiday has been criticized for being patronizing to administrative professionals by separating the work they do from the rest of the office, and some feel the holiday highlights that the assistants are seen as mere "support staff" to others in the office, despite the opposite goal by the creators of the holiday.
Formerly called National Secretary's Day, the name was changed to Administrative Professional's Day in 2000 to keep up with changing job titles.
The original Secretaries Day was designed to attract potential employees.  It was thought that this would help alleviate the skilled office worker shortage.
Happy Administrative Professionals' Day!