Employees from Vancouver ba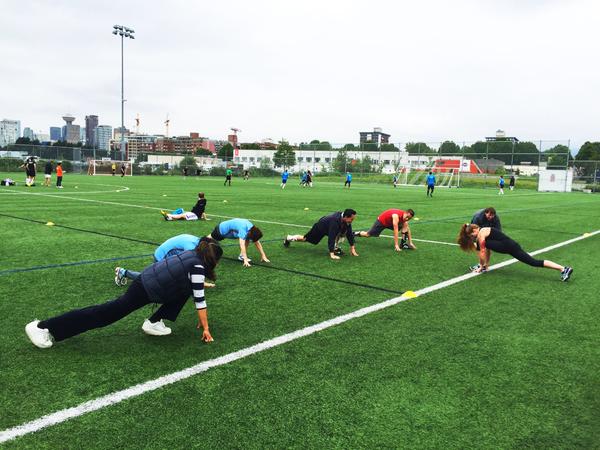 sed companies like Amazon, BC Hydro, Microsoft and KPMG will enjoy a complimentary "mini yoga" session on Sunday after their upcoming soccer game with the Vancouver Summer Games.
Better known as "Corporate Champions Vancouver", the Vancouver Summer Games 2016 will encompass several activities, such as basketball, golf, soccer and even an escape room, where participants must solve clues to unlock the door and leave the room.
Corporate Champions' soccer game will take place at various times throughout the day on Sunday, May 29th, and players will enjoy a "mini yoga" session at the end of their games at approximately 12:00 pm, 1:00 pm and again at 5:00 pm.
These complimentary 10-minute yoga breaks are being provided free of charge by local yoga teachers from Innergy Corporate Yoga, a local Corporate Yoga company that is well known for giving back to the community in various ways. Innergy has been bringing the benefits of yoga to businesses for 12 years now, including lowered stress, better performance and improved team culture. This will be the second year in a row that this service has been provided at the Vancouver Summer Games.
"After playing hard on the soccer field, yoga is a welcome break for everyone," says Victoria Mui, President of Corporate Champions Vancouver. "We're looking forward to having the teachers from Innergy provide this wonderful service again."
This "mini yoga" session will take place on Sunday, May 29th at Trillium Park at the intersection of National Avenue and Thornton Street, in Vancouver. Times will be approximately 12 pm, 1 pm and 5 pm, with yoga lasting approximately 10 minutes.
To learn more about Corporate Champions Vancouver: http://www.ccvancouver.ca/