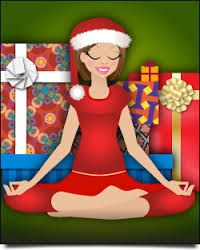 Tis the season for merriness, cheerfulness, joy and peace. The season of sweet treats, shopping blitzes and extra activities.
This time of year is about celebrating, enjoying and living it up, BUT it can be stressful rushing from place to place, trying to get everything accomplished, as well as meet self-imposed high expectations.
What's the point of it all though if the holidays leave you feeling less than festive?
Here are 7 ways to keep stress OUT of your holiday plans this year . . .

(1) Learn to Say No – When invitations are coming your way for parties, events and more, remember that you don't have to say yes to everything. Choose the activities that mean the most to you and be alright with saying no to the rest. Don't worry about hurting someone's feelings. It's more important that you stay honest with yourself and don't overcrowd your schedule. This will also allow you to truly enjoy the activities that you have chosen even more.
(2) Plan Ahead – Be as prepared as you can be this month. Make lists and post them where you can see them at work or at home – on the fridge, your desk, etc. Use a good calendar/scheduler. Write things down as they pop into your head. Need to buy a dress for that special party? Add it to the list and give yourself plenty of time to accomplish the task. Need to pick up some items at the store for holiday baking? Make a list and plan to pick them up a week or so before you actually need them.   That way when you start your baking you already have everything you need and are way more relaxed.
(3) Do Less – Let some tasks go. Does your sock drawer really need to be organized today? Do you really need to make Martha Stewart like Christmas crafts? That Pinterest photo tempting you to be a domestic goddess? It's ok to lower your standards, chill out more and just let some things go. People value your time more than anything else – this is especially true if you have children. Find a simple and easy activity you can do with them, like making gingerbread cookies, reading Christmas stories or going tobogganing.
(4) Get Enough Sleep – Sleep deprivation is fairly common this time of year. Make a pledge to yourself to get to bed before 10 pm most nights this month. Getting enough zzz's will help you to have more energy, fight off colds and flues and to make it through each day with ease.
(5) Practice Self Care – Whether it's a morning yoga practice, a lunchtime run on the treadmill or an evening bath, be sure to take care of yourself this month. Don't say you'll start in January – start now!   Make time for things that fill you up. Spend time with your partner, cuddle with your kids at night or read your book in the evening with a cup of hot tea in the bathtub. Do something that makes you happy for at least 30 minutes every day.
(6) Don't go crazy on the sugar – Tempting treats seem to come out of nowhere in December. A caring co-worker bakes cookies and brings extra to work. Your friends are serving festive (and sugary) drinks at a party. There's chocolate, cookies, fudge and so much more just waiting for you to nibble and bite.   Watch your portion sizes, choose the items you really want instead of eating everything offered and most of the time stick to healthy proteins, vegetables and fruits.
(7) Breathe – When all else fails, or even before it does, remember what we teach the most in any yoga class – to just breathe. When you're feeling stressed, frustrated or just plain rushed, take 3 deep breathes. You'll instantly lower your blood pressure, you'll feel calmer and what had you stressed just a moment ago suddenly won't seem so huge anymore. Your breath is a tool that you have with you at all times so remember to use it.