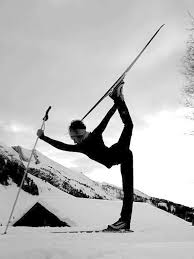 Skiing is a sport that takes a lot of stamina, strength, grace and agility. We use muscles that we haven't used all year long when we ski. If you're like most skiers, you would love to be better and faster on the slopes and would probably also like to minimize the amount of soreness you feel the next day.
And wouldn't reducing your chances of injury be a nice bonus??
Just as people do yoga to help them with a variety of activities and sports, yoga is a great compliment to skiing.